Thriving Barangaroo Reserve sets the standard for landscaping
When strolling among the chewing gum and figs, tree ferns and cabbage palms of the Barangaroo Reserve, it's easy to forget that until recently this area was a flat concrete slab littered with shipping containers. The transformation from an industrial site to a kind of headland carved out of natural shrubbery was remarkably quick.
Barangaroo Reserve.Recognition:Robin Powell
And certainly not expected uniformly. Stuart Pittendrigh, the landscape architect, gardener and arborist responsible for the planting, recalls several experts who predicted failure. So he's quiet as we take a walk through the reserve, six years after we first looked at the plantings together.
Plantings are never planted and forgotten. But large parks and gardens are often opened with fanfare and then financed with a minimum of maintenance. It's the mow-blow-go routine that is reinforced by the occasional chainsaw. The Barangaroo Reserve is very different. "I have a unique briefing," says Pittendrigh, "and it's just wonderful." He visits every month and optimizes, advises and constantly monitors a largely maintenance-free maintenance routine that painstakingly avoids any "parking" tendency.
Barangaroo.Recognition:Robin Powell
Chainsaws are forbidden, plants are only trimmed with secateurs and snipping around the large sandstone blocks on the lawns is also prohibited. Instead, a pad of grass about 20 centimeters high and wide frames the rocks so that they nestle into the land.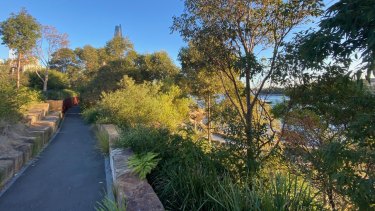 Barangaroo. Recognition:Robin Powell.
Pittendrigh developed a number of revolutionary techniques for the Barangaroo Reserve to take effect immediately. Trees were grown in shallow, wide containers in order to get the best possible root ball for life in an essentially huge container garden. Pittendrigh's wide, flat root plate has since become the standard in the industry for nurseries growing old trees for landscaping.
The trees on the Barangaroo reservation are thriving: lush Port Jackson figs have doubled since they were planted; majestic Sydney blue gums develop their adult form; Forest red gums just show shiny stems.
The middle layers of shrubs such as wattle and callistemon have filled in, making the construction of the slope invisible.